The Rapid-Reaction Anti-Corruption Project: Swiftly Framing Public-Private Solutions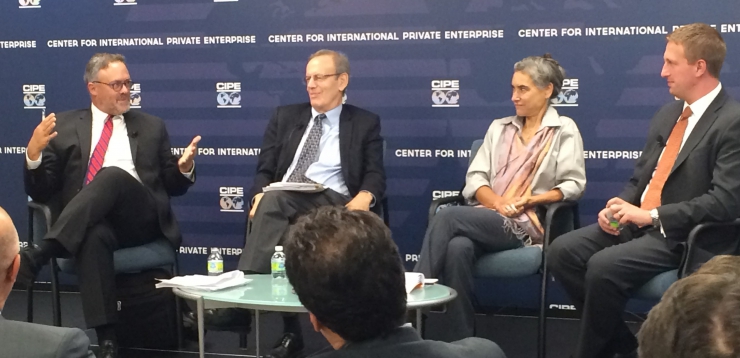 On Friday, September 16th from 12:00pm – 2:00pm, the Center for International Private Enterprise (CIPE) hosted a panel discussion on the need for rapid response in countries where a significant opportunity has appeared for achieving anti-corruption progress. CIPE's Rapid Reaction Anti-Corruption Project is designed to address this need by deploying a team of anti-corruption experts with international stature to countries in transition. The experts, with NGO, business, and law enforcement backgrounds, would be swiftly deployed to countries which have governments newly empowered to address corruption, and a strong economic interest from foreign firms previously repelled by corruption risk.
Panelists included anti-corruption practitioners with hands-on experience in Afghanistan and Ukraine, as well as one of the NGO community's thought leaders on kleptocracy issues. The audience was given the opportunity to ask the panel questions as well as offer their input on the Rapid Reaction to Anti-Corruption Project.
Watch the full video:
Panelists:
Carl Gershman - President, National Endowment for Democracy
Sarah Chayes - Senior Associate, Carnegie Endowment for National Peace; Author, Thieves of State: Why Corruption Threatens Global Security
Eric Hontz - CIPE Program Manager for Ukraine, Russia and Central Asia, former investment bank VP and lawyer in private practice
Moderator:
Christian Caryl - Editor of Democracy Lab, former Newsweek reporter, author of Strange Rebels: 1979 and the Birth of the 21st Century
Location:
CIPE Offices
1211 Connecticut Avenue, NW Ste 700
Washington, DC 20036