Strengthening Fragile States: Causes and Solutions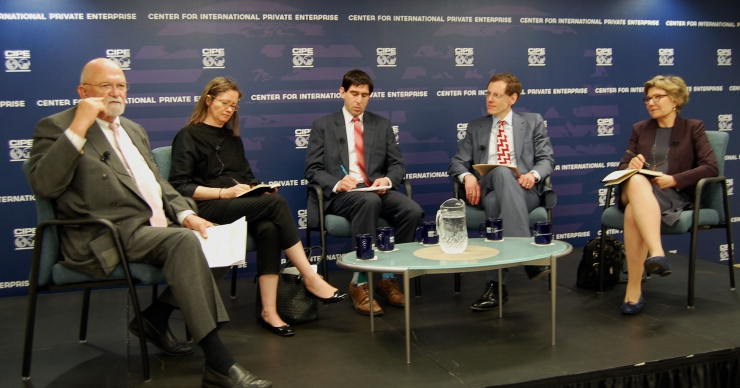 Fragile states drive a disproportionate share of the world's instability, violence and poverty. People living in these countries suffer from weak or dysfunctional institutions, social divisions, corruption, poor governance, a lack of protection of rights, and large informal sectors. These problems not only cause instability within a country, but create tensions regionally and sometimes globally.
On May 1, the Center for International Private Enterprise hosted a discussion on Strengthening Fragile States: Causes and Solutions. The panel discussed the roots of fragile states and how to strengthen them. Specifically, they addressed:
Lessons learned from the Arab Spring.
Root causes of fragile states.
How to foster institutions and improve governance through transparency and accountability in the public and private sectors.
Comparing fragile states with functional ones.
The importance of building democratic institutions.
Private sector participation in the democratic process to strengthen states.
Panelists include:
Deborah Amos, International Correspondent, NPR News
Amb. Richard Holwill, Vice President, Public Policy, Alticor, former Ambassador to Ecuador and former Deputy Assistant Secretary of State, Latin America
Clare Lockhart, co-founder and Director of the Institute for State Effectiveness and co-author of Fixing Failed States.
Marc Schleifer, Regional Director, Eurasia and South Asia, Center for International Private Enterprise
Amb. Mark P. Lagon, President, Freedom House, former Ambassador at Large, Office to Monitor and Combat Trafficking in Persons, US State Department, former Deputy Assistant Secretary of State, Bureau of International Organizational Affairs