2009 Annual Report
April 1, 2009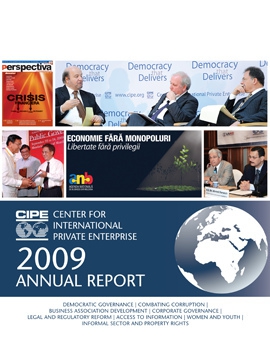 Throughout 2009, CIPE worked across the globe to support reformers fighting for democracy and market economies. This report highlights our partners, their success and achievements, and the exceptional impact of their work.
AFRICA
A new executive order in Liberia protects the righs of whistleblowers who disclose information about corruption.
ASIA
In Bangladesh, the first-ever Women's National Business Agenda was launched, providing the government with specific recommendations to improve the operating environment for women entrepreneurs.
CENTRAL AND EASTERN EUROPE
A new law on domestic trade in Montenegro changed the requirements to obtain a busines license and reduced the number of steps in the process from 15 to 1. This lowers barriers to doing business for 80 percent of Montenegrin companies.
EURASIA
In Russia, two new national anti-corruption laws establish a procedure that allows independent organizations to review draft laws, closing loopholes for corruption.
LATIN AMERICA AND THE CARIBBEAN
For the first time in Nicaragua, the government, private sector, and labor unions reached a consensus on a minimum wage increase. The Modest nature of the increase will help save more than 20,000 jobs in the free trade sector, which generates the largest amount of formal employment in the country.
MIDDLE EAST AND NORTH AFRICA
Efforts to improve corporate governance across the Middle East and North Africa resulted in two unprecedented accomplishments: the development of a corporate governance code in the Palestinian Territories and the launch of the Center for Corporate Governance in Tunisia.
GLOBAL PROGRAMS
CIPE's 2009 youth essay competition attracted ideas on entrepreneurship, education, and democratic policymaking from 650 young people in 106 countries including Belarus, Colombia, Eritrea, Pakistan, and Uzbekistan.