Programs in Eurasia
As strong national leaders reassert control in many Eurasian countries, the window for reform has begun to narrow. CIPE and its partners continue to focus on improving the quality of economic journalism and strengthening educators who are well-positioned to increase public awareness of democratic and free market concepts.
CIPE works with business associations to develop important technical capacities and advocacy skills for engaging successfully in the policymaking process. CIPE enables the grassroots business community, regional experts, and the wider civil society to strengthen consensus behind reform-oriented collective action and fortify appreciation for the values of entrepreneurship and market-based democratic principles.
Program Higlights in the Eurasia Region
As a result of CIPE's support to a network of 32 business associations and chambers of commerce involved in the National Business Agenda (NBA) process in Moldova, the Ministry of Economy approached the coalition with an official request to sign a Memorandum of Understanding soliciting assistance, input, and evaluation to improve the government's economic reform initiatives.
CIPE partner the Corporate Governance School established Kyrgyzstan's only grassroots-led private sector program to improve management and transparency in state-run enterprises by educating board members about corporate governance principles.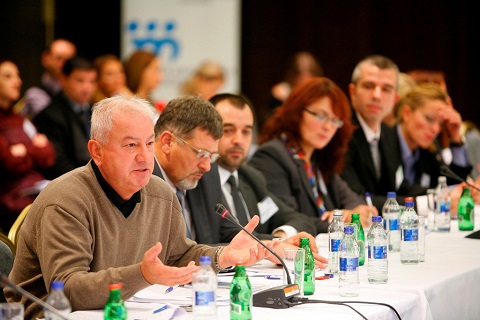 Members of the Serbian Association of Managers advocate for a new labor code in Serbia. Inflexible and outdated rules have been a major inhibitor for the competitiveness of domestic companies and, in turn, the Serbian economy as a whole.
Ukraine: Business Owners Find Their Voices During Parliamentary Elections
CIPE's office in Kiev is coordinating an effort to cultivate and nurture indigenous business associations across Ukraine. In 2012, CIPE launched its third seminar series designed to strengthen associations representing Ukraine's small- and medium-sized businesses. Due to geographic and ethnic divides, Ukraine's businesses are often limited in influencing electoral politics because they have not rallied around common concerns. This changed during the 2012 election cycle. With CIPE assistance, a network of 97 business associations mobilized the entrepreneurial community to identity barriers to economic activity and to insist that candidates clearly take a position on these subjects. As associations improve their basic functions, in such areas as budgeting, financial management, and communications, CIPE included seminars on public policy participation. Many of the participating associations have coalesced into groups that have begun to collectively address top priorities for economic and legal reform.
Program Results & Impact
49 parliamentary candidates signed pledges to pursue the business community's priorities if elected. Four won election. CIPE partners are engaging them to implement the business community's agenda.
Once the 2012 elections were over, graduates of the business association training seminars continued to build support for reform. For instance, the Sevastopol chapter of the Ukrainian Union of Industrialists and Entrepreneurs hosted an online conference in November 2012 for 15 elected leaders and policymakers to map the business community's legislative priorities.
Eurasia Regional: Redesigned Russian-Language Website Broadens Outreach
In February 2013 CIPE launched its newly redesigned Russian-language website www.cipe-eurasia.org. The new site expands access to information within the Russian-speaking world for thought leaders who are focused on instituting sustainable market-based democratic reforms. The site offers not only a library of CIPE's articles, case studies, and manuals, translated into Russian, but also includes materials produced by members of the CIPE partner network around the globe. Subscription is available through email, RSS, Facebook, and the Russian lanugage social networking site Vkontakte.
Through efforts such as this, CIPE helps expand the scope and improve the quality of information available to the private sector to advocate for market-based democratic reform. CIPE works with grassroots civil society organizations to help build a strong and constructive dialogue with decision-makers to improve the business environment, as well as strengthen transparency and accountability in government and reduce corruption.
Creating lasting change in transitioning countries is a challenging endeavor. Through access to information initiatives such as the Eurasia website, CIPE provides reformers with valuable tools tailored to their unique needs during times of momentous change.
Central Asia: Strengthening Understanding of Market Concepts
When citizens are equipped with facts and independent analysis, they can better engage in the democratic policymaking process at every level with accurate, objective information from reliable sources. To strengthen public understanding of key issues affecting the economy, CIPE partnered with the Kazakhstan Institute of Directors (KID), the Kyrgyzstan Stock Exchange Press Club (KSEPC), and the Development Policy Institute (DPI) to improve journalists' critical thinking and analytical skills through a series of seminars for economic journalists on business topics. The program also focused on educating professors and business school students in Kazakh universities on the importance of corporate governance in promoting the democratic values of transparency, rule of law, and accountable decision-making practices.
Program Results & Impact
Nearly 800 university professors and business school students strengthened their knowledge of corporate governance through CIPE-supported educational seminars in Kazakhstan. Now 50 percent of Kazakh universities offer instruction on corporate governance for future business leaders.
For the first time in Central Asia, media outlets gathered with the business community and think tanks from across the region at a two-day international conference in Bishkek, Kyrgyzstan to discuss ways to improve reporting on economic and business-related issues in the Central Asia region.
Over 100 journalists from across Central Asia produced 225 news and video stories on economic issues after participating in CIPEsupported Economic Journalism Schools to improve their analysis and understanding of economic topics.
Kosovo: Strengthening Public Procurement and Governance
With CIPE assistance, longtime CIPE partner the Riinvest Institute for Development Research is helping to galvanize public support for greater transparency and accountability in Kosovo's government. After a survey of 600 small and medium-sized businesses and in-depth interviews with key stakeholders, Riinvest produced high-profile policy papers on public procurement and corporate governance in Kosovo's publicly-owned enterprises. The reports were circulated widely, including to more than 50,000 companies, and large public events were held to present their findings and recommendations. The Balkan Investigative Reporting Network broadcasted both events on special editions of "Life in Kosovo," a popular television program with nearly 400,000 viewers per week. The surge of public attention and support has positioned Riinvest well to intensify its advocacy for transparency and corporate governance reform.
Program Results & Impact
The Kosovo Institute of Public Administration developed a new advanced training program for public procurement officers. By stressing technical procurement issues and emphasizing case studies, the institute hopes to create greater awareness of how barriers to transparency and fairness can be overcome.
The Public Procurement Regulatory Commission completed and simplified secondary legislation governing public procurement. These laws will make it easier for companies to bid on government contracts and help create more transparency around the expenditure of public funds.