Using Technology to Strengthen Civil Society in Cambodia
July 18, 2016
Article at a glance:
Cambodia remains one of the least developed countries in Asia, but internet connectivity is on the rise.
Digital tools, often inexpensive or free, can multiply the impact of advocacy and help associations run more efficiently.
CIPE and Panoply Digital worked with Cambodian partners to identify useful online tools for advocacy and capacity development.
Background
Over three decades after the end of the communist regime under the leadership of Pol Pot, Cambodia remains one of the least developed countries in Asia. Nearly one third of the nation lives on less than a dollar a day in an economy heavily dollarized, where the dollar and riel can be used interchangeably. The 2016 Index of Economic Freedom by Heritage Foundation marked Cambodia's current state of economic freedom as "mostly unfree." Despite successes in terms of improved management of public finance and trade freedom, concerns such as rule of law, business freedom, and financial freedom remain a constraint. What is more, Cambodia faces democratic backsliding as freedoms of speech and association continue to be challenged. For example, the government's proposed law to regulate cyber-security has been viewed as a law that, instead of protecting and granting rights, would restrict citizen freedom.
Freedom House's Freedom on the Net 2015 report indicated Cambodia's status of freedom on the net as "relatively free." Within Southeast Asia more broadly, digital connectivity has rapidly increased since 2015, much of which can be attributed to greater access to internet-enabled mobile devices. This increased access has in turn facilitated an active social media presence online. As of November 2015, 40 percent of citizens in Southeast Asia have access to the internet. Cambodia certainly follows this trend – the country's mobile connections have increased from 23.9 million to 25.99 million, and the total amount of Facebook users has reached 3.4 million. Of these 3.4 million on Facebook, 2.1 million are men and 1.3 million are women. As Internet and social media penetration increases, more and more Cambodian citizens become informed and interconnected. This growing online community is a powerful platform for exchanging ideas and constructive dialogue for the betterment of Cambodia's government, economy, and civil society.
On the frontlines of business and civil rights advocacy, CIPE is working with partners Silaka and the Cambodian Federation of Employers and Business Associations (CAMFEBA) to strengthen civic participation at the local levels. Silaka, a non-governmental organization based in Phnom Penh, focuses on promoting good governance and gender equality in Cambodian society by spreading knowledge and supporting collaboration between the public sector, private sector, and civil society. In one project working at the intersection of these three sectors, Silaka is working to mitigate corruption in the public procurement process at the district, commune, and provincial levels of government.
Specifically, CIPE helped Silaka assemble a coalition of local NGOs, businesses, and village representatives in Kampong Thom province. The coalition called itself the Joint Procurement Monitoring Committee (JPMC). Since training programs to build the coalition's capacity as a procurement monitor, JPMC has identified numerous irregularities in the procurement process, which it has shared both with local officials as well as through a broader public awareness campaign for citizens. Educating and making citizens aware of their rights to demand and expect good public governance and accountable spending is imperative to a functioning democracy. Through informational radio programs and brochures, Silaka has made gains in educating the general public on the importance of reform. However, CIPE saw an opportunity to bolster these efforts with increased and varied use of technology.
CAMFEBA, also based in Phnom Penh, represents the private sector as an autonomous, independent, not-for-profit employers organization with approximately 2000 companies and nearly a dozen business associations as fully voluntary members. Business associations serve not only as the voice of business, but as advocates for greater transparency, inclusive growth, and reduced corruption. Like Silaka, CAMFEBA is an organization that, despite operating on limited resources, designs and leads public policy advocacy campaigns for a prosperous business environment in Cambodia. CAMFEBA was another ideal candidate for technology capacity building as various tools could both increase its organizational efficiency by streamlining processes as well as magnify its advocacy efforts through external communications channels.
CIPE developed a training workshop with ICT for Development consulting firm, Panoply Digital, to support the work of CIPE's partner organizations with technology. This training workshop is the second in a series of joint efforts between CIPE and Panoply. Despite a myriad of challenges, simple tech resources operable at low to no cost in a low bandwidth environment can unlock the full potential of organizations like Silaka and CAMFEBA, working to better the business environment and instill democratic values like accountability and transparency to their communities.
Technology challenges and needs faced by Silaka and CAMFEBA
Both Silaka and CAMFEBA reported intermittent but generally satisfactory connectivity. They rated access to and familiarity with technology and applications within their organizations as limited. Advocacy efforts typically focused on voice (phone or internet telephony) and marginal social media (Facebook groups). In Silaka's case, the organization was innovative in conducting podcasts in addition to radio broadcasts on topics such as good governance, accountability, and the roles of a citizen. As a business association with a wide range of private sector members, CAMFEBA wanted to offer legal research for its members, stay abreast of legislative changes, and communicate these updates effectively. Therefore research and data collection was important for both organizations within their respective advocacy and policy research goals.
Considering organizational capacity, each of these organizations operates day-to-day with a small team and limited financial resources. Both organizations also expressed interest in professional development and e-learning as a means to build staff capacity. In order to improve efficiency and cut down on staff time, the tech-based solutions needed to also be available at low to no cost and operable in a low bandwidth environment.
Strategies and solutions for Silaka and CAMFEBA
Given these challenges, CIPE and Panoply Digital delivered a two-day workshop for both organizations in Phnom Penh. Training topics covered policy research, professional development, and developing and delivering online training. Specifically, CAMFEBA and Silaka staff became familiarized with no to low cost tools that could function effectively in lower connectivity settings. While there is an ever-growing number of resources being developed, some tools are ephemeral, thus the selected resources had the best potential for longevity.
Four tech strategies and solutions were shared with Silaka and CAMFEBA based on their needs assessment:
CIPE and Panoply Digital introduced and familiarized Silaka and CAMFEBA with these tools in order to help both organizations save time and maximize resources for researching, communicating research and information to each organization's stakeholders, and bolstering organizational capacity in terms of professional development and advocacy resources.
Impact
Integration of new technology tools and platforms is a multi-step process. Adoption often requires cultural and behavioral change in transitioning to using a new tool. To account for this time period, CIPE and Panoply Digital followed up with both organizations three months after the training workshop in Phnom Penh. Silaka and CAMFEBA were surveyed to assess the value participants felt they had gained from the workshop as well as any challenges either organization might have faced in implementing the resources.
Nearly 75 percent of attendees responded to CIPE's survey, of these every respondent noted they had used the tools presented in the training workshop. Research, design, and communications were noted as the most important responsibilities for staff members, thus many respondents noted that "the training was very beneficial."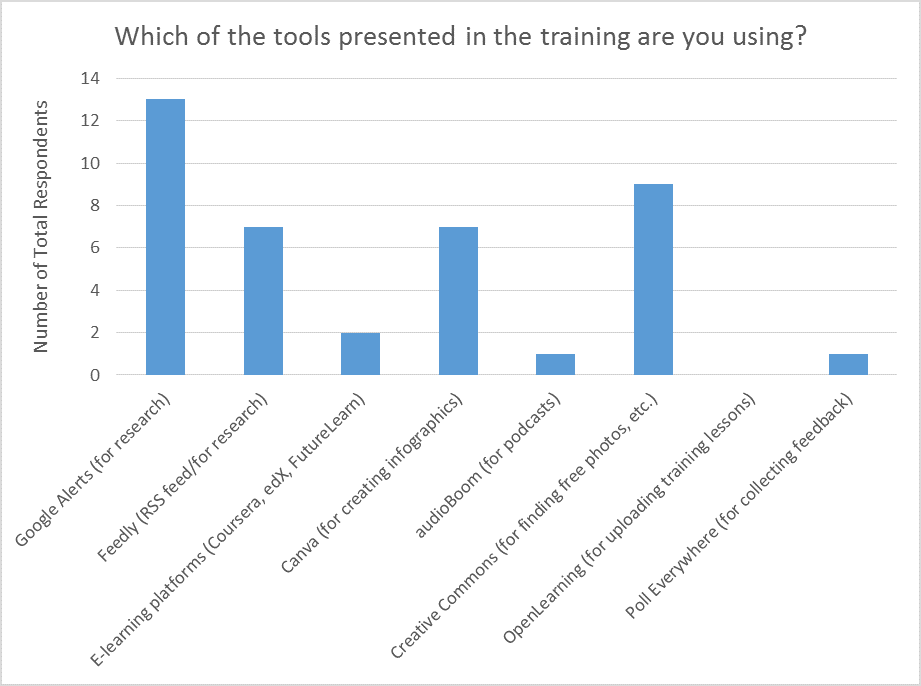 The tools that advance research efforts by cutting down staff time were incredibly helpful to both organizations. One survey respondent noted that "before [attending] CIPE's training, I always spent 10 to 15 minutes to look for local updated news. But after I completed the training, I now use Feedly to collect and monitor news by spending only 1 or 2 minutes for each article." Powerful advocacy campaigns also must be visually attractive with good use of data visualization. Staff appreciated resources like Creative Commons and Canva, which offer free images and easy to use infographic design.
In a few cases, respondents reported not having used the tools because they were not necessarily relevant to their specific job position. In other cases, a few respondents indicated interest in using e-learning platforms for professional development like Coursera or edX but did not have the time. Within the workshop session, participants were asked to draft an individual professional development plan for the next few months to a year. Mapping out benchmarks for individual and organizational development is important so that staff can follow a manageable timeline. Participants also discussed incentives for taking a course online – level of accreditation and what it means to employers as opposed to a paid university course. Organizations with limited budgets for professional development can incentivize staff members to take advantage of free or low-cost e-learning opportunities by requiring a certain number of courses throughout the year as well as rewarding these efforts during annual performance reviews.
Conclusion: Lessons learned
At the onset of embarking on a technology-focused project, it can be tempting to gravitate towards application, creation, or development of a new web-based platform. In conducting this first phase of CIPE's Tech for Democracy project, one valuable lesson learned is that resources can be significant without being expensive, high impact without being high tech. In fact, it is arguable that relatively low tech tools are better suited for organizations in emerging markets that face challenges such as intermittent connectivity and lower bandwidth. A second lesson learned is that whether within our own organization, CIPE, or in the field with partner organizations, adoption of new technologies requires time, behavior change, and buy in. A key takeaway for CIPE and other organizations looking to adopt such technologies is to welcome innovation and new ideas like Silaka and CAMFEBA have. Their openness to try and use different tools, in the end, will serve them well as they continue building upon their work.
In order to support all organizations within CIPE's partner network and field offices, CIPE compiled resources for advocacy, communications, organizational governance, financial management, and membership development and services on its Virtual Business Association website under the Resources page. View a recent webinar led by CIPE staff on these tools on YouTube.
Stephanie Bandyk is a program assistant for Global Programs at the Center for International Private Enterprise (CIPE), where she works on thematic projects involving market-oriented reforms to strengthen democracy, women and youth entrepreneurship, public-private dialogue, and anti-corruption. Prior to working at CIPE, she interned in the United States Senate, the British House of Commons, and the U.S. Peace Corps Headquarters. She holds a bachelor's degree in Politics and International Affairs from Wake Forest University.