Identifying and Removing Barriers to Investment in Ukraine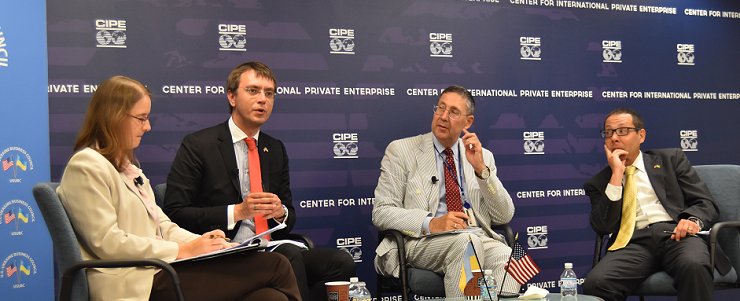 On Tuesday, June 20th, from 12:15pm to 2:00pm, the Center for International Private Enterprise and the U.S. Ukraine Business Council co-hosted a panel discussion on resolving obstacles to private investment in Ukraine.
The Revolution of Dignity brought about structural economic reforms that advanced at a pace not seen since Ukraine's independence. However, substantial institutional barriers stand in the way of necessary reforms that will increase government accountability and foster a healthier investment climate. While reforms have recently slowed, international organizations and many members of the Ukrainian government are still committed to an ambitious agenda of economic reforms, including increased public-private partnerships, foreign direct investment, and privatization of many state-owned enterprises.
Panelists:
Volodymyr Omelyan, Minister of Infrastructure, Ukraine
Ambassador John E. Herbst (ret.), Director, Dinu Patriciu Eurasia Center, Atlantic Council
Matt London, Deputy Managing Director, Amsted Rail Russia-CIS at Amsted Rail Inc.
Anna Kompanek, Director of Multiregional Programs, Center for International Private Enterprise (CIPE) (discussion moderator)
Watch the full video:
About the Panelists:
Volodymyr Omelyan holds degrees in finance, international relations, economics and entrepreneurship from the Ivan Franko National University of Lviv and the Lviv Polytechnic National University. He has held several positions in the Ministry of Foreign Affairs of Ukraine (2000-2008). Then he served in the embassy of Ukraine in Vienna. After that he worked in the Ministry of Ecology and Natural Resources of Ukraine. In 2012 he joined to the Ministry of Finance as a Deputy Director of the Chief Information Office. In 2014 he was appointed Deputy Minister of Infrastructure. In 2016 he was appointed Minister of Infrastructure of Ukraine.
Ambassador John E. Herbst (ret.), is currently director of the Atlantic Council's Dinu Patriciu Eurasia Center. Ambassador Herbst served for thirty-one years as a Foreign Service officer in the US Department of State, retiring at the rank of career-minister. He was US ambassador to Ukraine from 2003 to 2006, when he worked to enhance US-Ukrainian relations, help ensure the conduct of a fair Ukrainian presidential election, and prevent violence during the Orange Revolution. Prior to that, he was ambassador to Uzbekistan (2000-03), where he played a critical role in the establishment of an American base to help conduct Operation Enduring Freedom in Afghanistan. He also promoted improved US-Uzbek relations, in part by encouraging the government in Tashkent to improve its human rights record. He earned a bachelor of science in foreign service from Georgetown University's School of Foreign Service, Phi Beta Kappa, and a master of law and diplomacy, with distinction, from the Fletcher School at Tufts University.
Matt London, Deputy Managing Director, Amsted Rail Russia-CIS at Amsted Rail Inc. Matt London has been with Amsted Rail since 2006 focusing on the company's businesses in the "1520" former Soviet Union railway region, including a railway bearing joint venture in Saratov, Russia and a railway truck parts joint venture in Malin, Ukraine. Matt travels to the region frequently and has extensive experience with the railways and railway supply communities. Prior to joining Amsted Rail, Matt worked for 3 years at Transolutions, a transportation and infrastructure consulting company based in Moscow, which was acquired by Amsted and before that was a desk officer for Russia and the CIS at the Commerce Department from 1998-2003.
Anna Kompanek (discussion moderator) is the Director for Multiregional Programs at the Center for International Private Enterprise (CIPE) in Washington, DC. She leads programs spanning emerging and frontier markets in different regions focused on CIPE's core themes of democratic governance, legal and regulatory reform, access to information, combating corruption, property rights, entrepreneurship, and women and youth. Her expertise also includes association capacity building and governance. Kompanek has authored and co-authored numerous publications addressing the challenges of political and economic reform around the world and is a regular contributor to Thomson Reuters TrustLaw blog. Prior to joining CIPE, she worked as a business consultant in her native Poland on the issues of competitiveness and market entry in Central and Eastern Europe, and in Washington, DC on industry benchmarking and corporate strategy. She holds a BA from Indiana University of Pennsylvania and a master's degree in German and European Studies from Georgetown University's School of Foreign Service with the honors certificate in International Business Diplomacy.